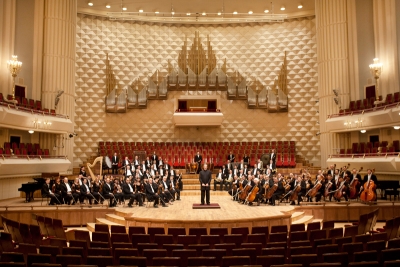 Tbilisi Symphony Orchestra
Tbilisi Symphony Orchestra is a leading music ensemble in Georgia, which successfully performs in
regions as well as abroad.
Tbilisi Symphony Orchestra has been founded in 1993 by famous Georgian conductor Djansug Kakhidze. Since 2002 the artistic director and chief conductor of Tbilisi Symphony Orchestra is his son – well-known composer, conductor and pianist Vakhtang Kakhidze.

During these years the standard of Tbilisi Symphony has risen to international ones. The orchestra had concert tours in:
France, Switzerland,Luxembourg,Turkey,Germany, Italy,
Russia, Israel.

Orchestra had very successful concerts in such famous concert halls as:

Berlin Philharmony
Salle Pleyel and Theatre de Champs Elyssee in Paris
Symphony Hall in Basel
Jahrhunderthalle in Frankfurt
Verdi Concert Hall in Milan
Santa Cecilia Music Academy New Symphony Hall in Rome
Congress Hall in Ankara
Jerusalem Philharmony
Big Hall of Moscow Conservatory
Symphony Hall of St.Petersburg Philharmonic.

Tbilisi Symphony has attended several international music festivals:

Tibor Varga Festival in Sion
Festival European in Wiltz
Festival Musiquale in Saint Yrieix la Perche
Paleo Festival in Nion
Sevda Senap Festival in Ankara

With Tbilisi Symphony Orchestra perform such famous musicians as:

J.Careras, M.Rostropovich, Y.Bashmet, G.Kremer, V.Tretjakov, N.Gutman, V.Repin, A.Kniazev, G.Hoffman, N.Freire, L.Leonskaia, D.Alexeev, M.Rudi, F.Leuleux, M.Lethiec, E.Virsaladze, A.Toradze, E.Andjaparidze, L.Batiashvili, Kh.Buniatishvili, A.Korsantia, L.Ataneli, I.Tamar, T.Ivery and many others.
Besides, the orchestra has concerts with world stars of popular music: M.Legrand, D.Lockwood, I.Garbarek, B.James, P.Austin, Y.Gottfried, Ivan Lins, vocal groups - 'The Manhattan Transfer', 'TAKE 6', 'New York Voices'
Tbilisi Symhony collaborates with well-known conductors and outstanding contemporary composers.
The concert programs of Tbilisi Symphony are very diverse including the works by Classical, Romantic and 20th century composers.
Tbilisi Symphony has recorded over 150 musical pieces for SONY Classical and other foreign sound recording companies. In 2004 Tbilisi Symphony Orchestra has recorded National Anthem of Georgia.
In 1993 Tbilisi Symphony, in collaboration with Tbilisi Center for Music & Culture and Tbilisi Municipality, has founded an annual International Music Festival "Autumn Tbilisi", which hosts famous musicians from all over the world and became the most popular musical event in Georgia. In 2015 with support of Ministry of Culture and Monuments Protection of Georgia Dj.Kakhidze International Music Festival has been established,the idea of which is a creative collaboration of orchestra and world stars of popular music.
Tbilisi Symphony Orchestra systematically takes part in important events, performs concerts in the regions and supports the development of Georgian musical culture actively.